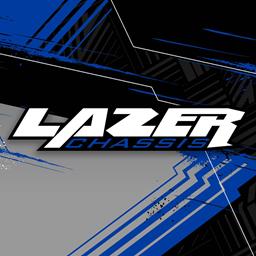 8/7/2021
Lazer Chassis ETW
---
Sweeney Jr., Archer, Surra, Dockery & Homan Race to Wins
Lazer Chassis saw three of its great racers in Victory Lane over the weekend. Scott Sweeney Jr. claimed the checkered flag in Late Model action at Winchester (Va.) Speedway.
Meanwhile, Chad Homan and Doug Surra both doubled down with wins. Homan topped the action at New York ovals, Utica-Rome Speedway and Fulton Speedway. Surra won twice in Pennsylvania with winning performances at Hummingbird Speedway and Thunder Mountain Speedway.
Additionally, Michael Archer topped the Late Model competition on Saturday night at Michigan's Crystal Motor Speedway with Brandon Dockery winning at Carolina Speedway.
Back to News